Behnk Elektronik
Thrombotimer 2 | Thrombotimer 4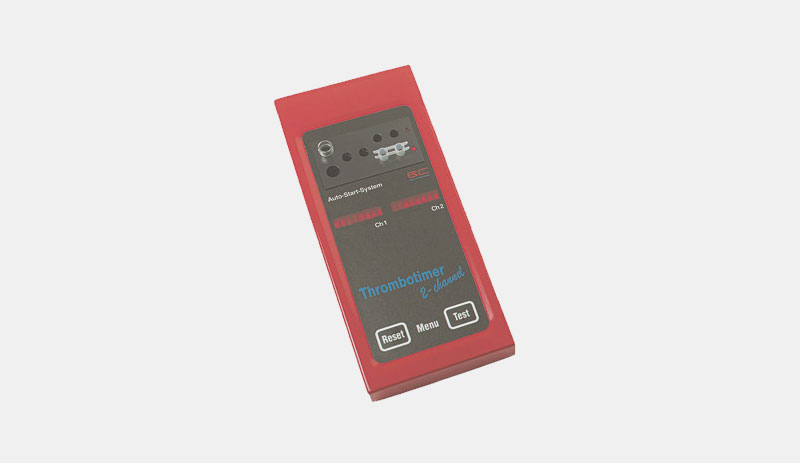 Product Specification
Thrombotimer 2
Thrombotimer 4
Measuring Channels
2
4
Incubation Positions
4
8
Reagent Positions
2
4
Double Determination
✔
✔
All Standard Reagents
✔
✔
Processes Calibration Curves
✔
✔
Test-specific Incubation Times
✔
✔
RS232 Interface
(PC/Printer)
✔
✔
Operating Voltage
✔
✔
Power Consumption
✔
✔
Dimensions
(W x H x L)
✔
✔
Weight
2.2 kg
5 kg
Our specialists for blood plasma
Innovative. Reliable. Maintenance-free.
The principle is simple
Starting
When switched on, the Thrombotimer automatically checks all important functions.
Incubating
Inserting a cuvette with a sample into the incubation position will automatically start the timed incubation process.
Measuring
Upon completion of incubation, the cuvette is placed in the measuring channel. The reagent is then added with any commercial pipette. The system starts upon reagent addition and stops with the coagulation of the sample. All results are automatically calculated and then displayed.
Every detail is innovative
The opto-mechanical measuring system
A circulating magnet underneath the cuvette causes a steel ball to rotate. This ball optimises the gentle mixing of the sample which results in uniform coagulation. The light source is adjusted according to the sample's turbidity making it possible to measure even difficult samples reliably. All sensors in the measuring system are protected from becoming soiled.
The incubation
A timer determines the period of incubation. Shortly before the completion of incubation, a red LED flashes. When incubation is complete, the Thrombotimer emits an acoustic signal. The timer can be programmed as needed for each test.
The evaluation
The measuring results are displayed %, INR, Ratio, mg/dl, g/l or seconds. A PC or printer may also be connected to the Thrombotimer.
The service
Since its introduction, the Thrombotimer has proved to be a maintenance-free instrument. Transmission of measuring data to an external system is made possible with the integrated interface.