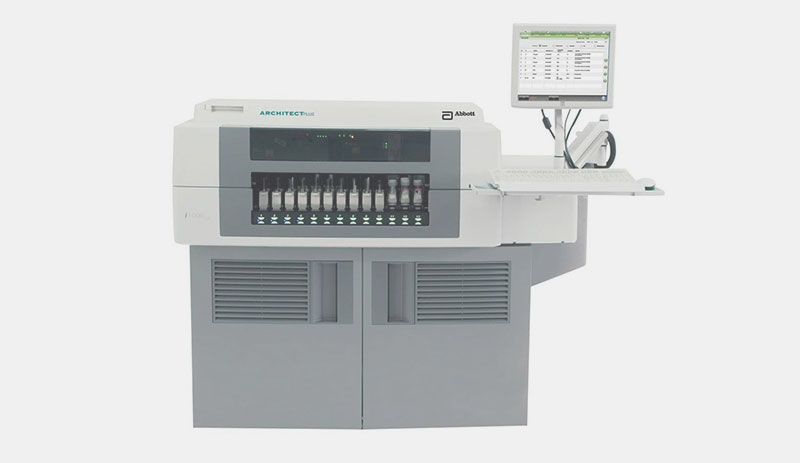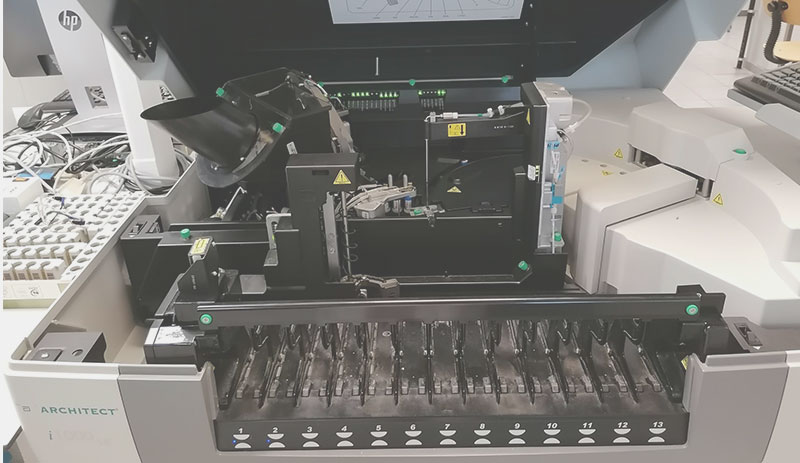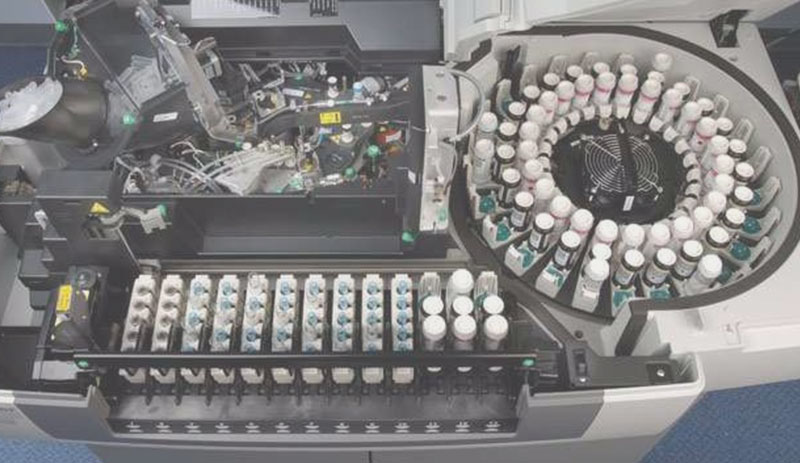 Product Specification
Methods
CHEMIFLEX
Maximum Throughput
Up to 100 tests/hour
Sample Types
Serum, Plasma, Whole Blood, Urine
Sample Tubes
Height: 72-102 mm
Diameter: 9.6-16.1 mm
Sample Cup
Yes (50 µl dead volume)
Sample Capacity
65
Sample Barcode Types
Code 39, Codabar, Interleaved 2 of 5, Code 128
Sample Result Storage
50,000
Sample Volume
10-150 μL, Average: 62 µL
Automatic Dilution
Yes
Sample Probe Carryover
≤0.1 parts per million
Reagent Capacity
25 refrigerated positions
Reagent Type
100% liquid ready-to-use
Reagent Onboard Stability
14-30 days
Calibration Frequency
Calibrate with new lot number, if controls are out of range or if specified otherwise within the package insert
Sample, Clot and Bubble Detection
Yes
Reagent Pressure Monitoring
Yes
Sample Interference Measurement
No
System Control Center
1 SCC, with color touchscreen monitor, keyboard and mouse
Onboard Maintenance Records
Yes
Online Error Code Help
Yes
Host Interface
Bidirectional, serial RS-232 interface, host query option available
Remote Diagnostics
AbbottLink
Dimensions(H x W x D)
49" x 59" x 30"
124.5 x 149.9 x 76.2 cm
Weight
636 lbs
288 kg
Electrical Requirements
AC 110-120V or 200-240V, ±10%, 50 or 60 Hz self-adjusting
Water Requirements
Purified water to dilute buffer concentrate
Heat Output*
2400 BTU/hr, running mode
Sample Loading
RSH
The ARCHITECT i1000SR immunoassay analyzer meets your laboratory's high standards by delivering STAT results when you need them. The flexible protocols built into the ARCHITECT i1000SR enhance laboratory workflow and allow you to report results with confidence.
For in vitro diagnostic use only.
Enhanced System and Assay Dynamics
CHEMIFLEX technology with flexible assay protocols provides excellent low-end sensitivity and expanded dynamic ranges
New patented wash cup design and wash algorithm effectively control sample carryover(<0.1 ppm tube to tube)
Pressure differential technology enables detection of clots, bubbles and insufficient sample volume to reduce analytical error and improve patient safety
The benefits: certainty and confidence in the clinical results
Integration Without Compromise
Designed for integration with the c4000 chemistry analyzer
Fast STATs: The ARCHITECT Robotic Sample Handler (RSH) provides "load on the fly" continuous access to both reagents and samples and allows the lab to prioritize tests through customizable priority bays
The benefits: handle the most urgent samples first without compromising your routine testing
True Family Commonality
The ARCHITECT i1000sr exemplifies the design philosophy of the ARCHITECT family of analyzers
Identical CHEMIFLEX technology, 100 test kit reagents, assay protocols and consumables
Identical ARCHITECT software
Identical universal ARCHITECT sample carrier
The benefits: equivalent patient results across all ARCHITECT immunoassay instruments and a simple, consistent user experience