Hemocue
HEMOCUE HbA1c 501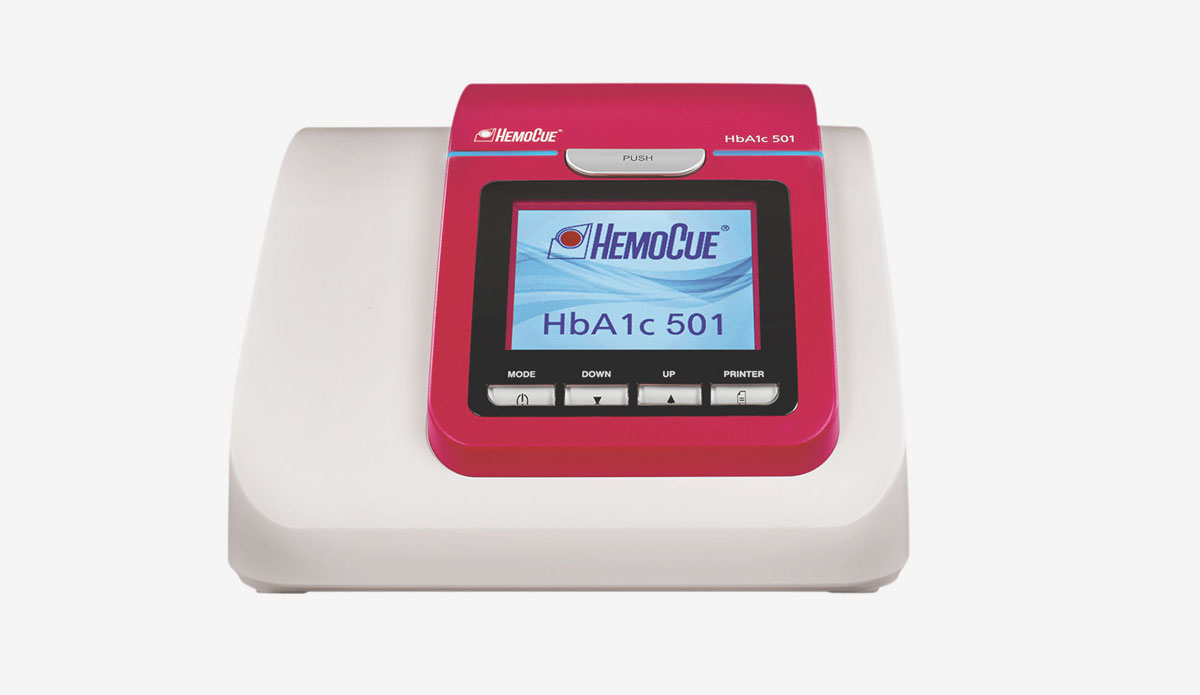 Product Specification
Principle
Fully automated boronate affinity assay for determination of HbA1c percentage in whole blood
Calibration
Factory calibrated and traceable to IFCC and NGSP/DCCT
Sample Material
Capillary, venous or whole blood
Measurement Range
20 – 130 mmol/mol (IFCC),
4.0 – 14.0 % (NGSP)
Results
In 5 minutes
Sample Volume
4 μL
Dimensions
198 × 217 × 136 mm
(7.80 × 8.54 × 5.35 inches)
Weight
1,600 g (3.53 pounds)
Operating Temp.
17 – 32 °C (63 – 90 °F)
Power
9 V DC / 1.5 A
Interface
Printer, PC and Barcode Scanner
Quality Control
Built-in "selftest"; Check Cartridge, system can be verified using liquid controls
Designed to Work for How You Work
HemoCue HbA1c 501 is a fully automated point-of-care system that's not only easy to use, but every element from its size to the storing and handling of cartridges is thought through to be ideally suited for how you work.
Rigorously tested according to HemoCue principles, and with automatic checks and calibrations built into the system, you can count on getting the right answer at the right time - every time.
So you won't miss a beat in caring for your patients.
Makes Your Whole Process Easier and More Efficient
Only a few simple steps with clear instructions on screen
All-in-one, individually packaged cartridge kits
Convenient room-temperature storage up to 18 months
Ensures You'll Never Have to Doubt an Answer at the Point of Care
Interference-free method unaffected by Hb variants
IFCC and NGSP certified
Precise, fixed calibration by factory
Provides a Safe Workflow for Excellent Patient Care
Automatic reading of calibration data for each test cartridge lot
Barcode reader for patient and operator ID available
Connectable