Arkray
ADAMS AIC HA 8380V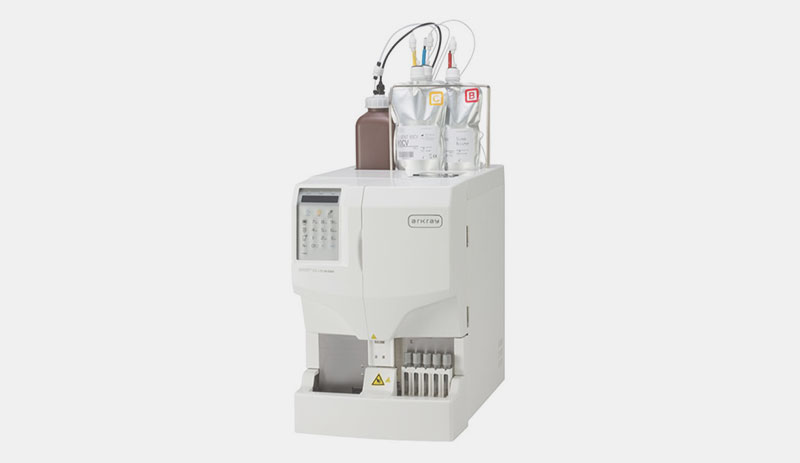 Product Specification
Samples
Whole blood or hemolysates
Measured items
HbAlc(Stable HbAlc), HbF
Measurement principle
HPLC method (Reversed-phase cation exchange chromatography)
Detection method
Dual-wavelength colorimetry
(wavelengths measured: 420nm/500nm)
Resolution
0.1% Ratio, Immol/mol
Measurement range
HbAlc : 3-20%, 9-195mmol/mol, HbF : 0-100%
Throughput
Variant mode:160 seconds per sample
Fast mode: 100 seconds per sample
Sample volume
Approx.4µL(whole blood)
Sample container
Blood collection tube
(12.3 or 15mm diameters x 75 to 100mm length)
Sampling method
Cap-Piercing
Rack
5 samples/rack
Measurement conditions
10-30°C > 20-80%RH (No condensation)
Display
20 digits X 2 lines LCD
Built-in Printer
Thermal printer, 58mm thermal paper
Sample loading capacity
A maximum of 10 samples
Power supply
AC100V-240V ±10% 50/60HZ
External dimensions
330(W) x515 (D) x485 (H)mm
A fully automated HbA1c glycated hemoglobin analyzer that uses the Gold Standard High Performance Liquid Chromatography method. This undisputed fastest HbA1c analyzer can give results in as fast as 100 seconds. The detailed measurement made with the ADAMS A1c Lite are accurate because high resolution peaks of stable and labile HbA1c are provided. Hemoglobin variants such as carbamylated Hb and acetylated Hb are eluted separately from stable HbA1c peak thus allowing an interference free testing.
Compact size
Compact and small size with full function and performance.
Easy-to-Maintain
No special tools are required for daily maintenance. Exchanged parts are hand-tightened, minimizing the workload of the user.
Highly-accurate measurements
The highly accurate measurements are the result of the HPLC measurement principle. The measurement result includes information of each peak and chromatogram. The result will be shown in both IFCC and NGSP units.
Cap-piercing method
The HA-8380V uses a cap-piercing method which enables the setting of capped blood collection tubes in sample racks. The accurate and direct aspiration of blood samples not only reduces workload but also helps to protect lab technicians from infection.