Arkray
ADAMS AIC HA 8180V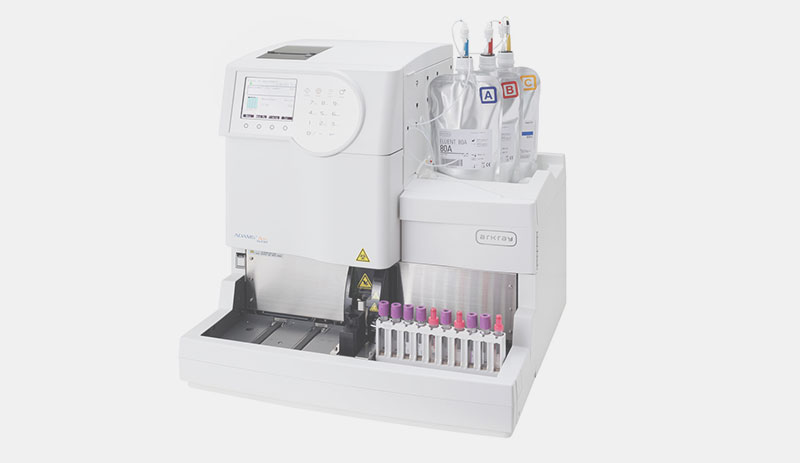 Product Specification
Analyzer Type
Fully automated HbA1C analyzer
Measurement Items
HbA1C (stable HbA1C, S-A1C)
HbF
Measurement Principle
Ion-exchange High Performance Liquid Chromatography
Guaranteed Measurement Range
HbA1C: 4 – 15% (20 – 140 mmol/mol)
HbF: 0.3 – 5%
Measurement Wavelength
420 nm / 500 nm (Dual-wavelength colorimetry)
Sample Type
Whole blood collected in K2-EDTA or K3-EDTA tubes or hemolysate
Sample Consumption
Approximately 14 µL (whole blood)
Required Sample Volume
Sample tube: 10 mm from bottom of tube
Sample cup: 400 µL
Throughput
37 tests/hour
Processing Speed
90 seconds/test
Sample Loading Capacity
One-way transportation: 50 samples
Loop transportation: 100 samples
Sample Rack Capacity
10 samples/rack
Memory
900 results (including calibration results)
Communication
RS-232 (Bi-directional) or Ethernet
Dimensions
21" (W) x 21" (D) x 21" (H)
Weight
Analyzer: 86 lbs.
Sampler: 9 lbs.
Power Supply
100-240V, 50/60 Hz
Measurement Environmen
Temperature: 10 – 30ºC
Humidity: 20 – 80% RH (no condensation)
A fully automated system that measures HbA1C glycated haemoglobin using the gold standard High Performance Liquid Chromatography (HPLC) for the monitoring and management of diabetic patients. The system gives result in 48 seconds in fast mode, and 90 seconds in variant mode making it the fastest HbA1c analyzer in the world. This state-of-the-art technology allows you to discriminate HbA1c versus common haemoglobin variants such as HbS, HbC and HbF which although rare are the most prevalent of all haemoglobinopathies. With its built-in sample stirring capability, manual mixing is eliminated allowing you to experience its true walk-away feature. . This 5th generation Arkray ADAMS series is equipped with advanced features that provides information necessary for monitoring average blood glucose level.
The fastest measurement in the world
The HA-8180V incorporates unique HPLC column technology to make it the fastest analyzer of its kind the world.
Variant Mode: Time until first report is just 3.5 minutes. For subsequent samples, measurement takes just 90 seconds.
Fast Mode: Time until first report is just 1.9 minutes. For subsequent samples, measurement takes just 48 seconds.
Easy-to-switch
Switching between Variant mode and Fast mode is performed via the operator panel on the analyzer, making things simpler for the user. The same reagents and column are used for both Variant and Fast modes.
Highly-accurate measurements
The highly accurate measurements are the result of the HPLC measurement principle. The measurement result includes information of each peak and chromatogram. The result will be shown in both IFCC and NGSP units.
Easy-to-follow user interface: Save time, avoid errors.
A large-size color LCD displays actual result, shows analyzer status, comments to operation procedure or informs the user about the remaining reagent volume.
Sample-stirring function
The automatic sample-stirring function before measurement prevents fluctuation in measurement results caused by blood cell sedimentation.
Easy-to-maintain
No special tools are required for daily maintenance. Exchanged parts are hand-tightened, minimizing the workload of the user. The pre-filter is already integrated with the column eliminating the hassle of exchanging it. Replacement of the filter is not required throughout the column life.
Cap-piercing method
The HA-8180V uses a cap-piercing method which enables the setting of capped blood collection tubes in sample racks. The accurate and direct aspiration of blood samples not only reduces workload but also helps to protect lab technicians from infection.