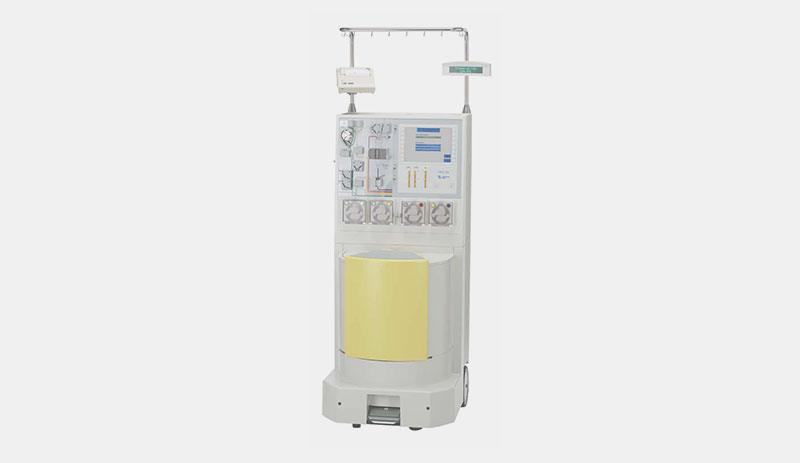 Product Specification
Programs
Therapy
Disposables
TPE
Therapeutic plasma exchange
PL1
RBC
Therapeutic red cell exchange or depletion
PL1
Adsorption
Therapeutic plasma treatment e.g. immunoadsorption
P1R
Depletion
Depletion of platelets or white blood cells
C4L
Programs
Leukocyte
Disposables
autoMNC stem cells
Automatic collection of peripheral blood stem cells, mononuclear cell collection or depletion
P1YA
autoMNC lymphocytes
Automated collection of lymphocytes in dual needle mode for consecutive photochemotherapy or DLI
P1YA
MNC
Peripheral blood stem cell collection, mononuclear cell collection or depletion
P1Y
BMSC
Bone marrow stem cell processing in vitro
P1Y + BMSC
Granulocyte
Granulocyte collection
P1Y
PBSC-Lymphocyte
Peripheral blood stem cell collection, lymphocyte collection or depletion
C4Y
RV-PBSC
Peripheral blood stem cell collection, reduced collection volume
RVY
Programs
Platelet
Disposables
PLT 5d
Platelet collection, 5-day storage (simultaneous plasma harvest possible), platelet depletion
C5L
PLT 5d
Platelet collection, Triple-concentrates, 5-day storage (simultaneous plasma harvest possible)
C5LT
PLT 5d-SN
Single needle platelet collection, 5-day storage (simultaneous plasma harvest possible)
S5L
The Multi-Procedural Apheresis Platform
COM.TEC® represents state of the art apheresis technology. The versatile applications for therapeutic plasma or red cell exchange, stem cell as well as platelet collections and cell depletions with only one device make the COM.TEC® the multi-procedural platform.
COM.TEC® offers reliable technology of camera controlled interface management for highly efficient procedures.
The easy to operate device is focussed on donor, patient and operator safety.
Highly efficient therapeutic protocols
Plasma or red cell exchange
Cell depletion
Plasma treatment with active and passive columns
Multi-procedural platform
Cell collection
Therapy
Cell donation
Leukocyte collection
Stem cell collection
Lymphocyte collection (for ECP)
Granulocyte collection