Fresenius Kabi
Compomat G5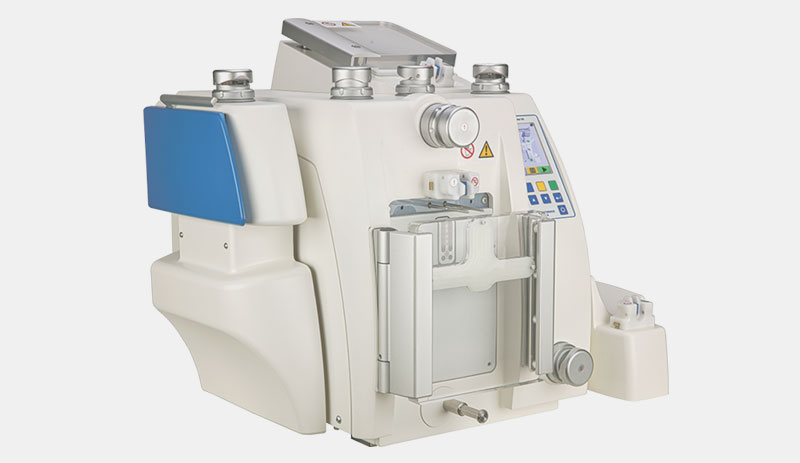 Product Specification
Dimensions
(H x W x D)
20" x 14" x 21" (without PL- and RBC scales)
20" x 17" x 21" (with RBC scale)
20" x 22" x 21" (with PL- and RBC scales)
Weight
~66 lbs.
Power supply / Max. Power Consumption
100-240V, 50-60Hz / 240 VA
UL
UL® approved
System requirements
CompoMaster NET G5 software operates with the following systems:

Intel® compatible CPU Min. 1.5GHz
HDD Min. 20 GB
RAM 1.5 GB
Monitor Min. 1042 x 768 resolution (xGA), 17" Monitor recommended
CD/DVD drive, min. one free USB port (USB 2.0)
The latest generation of automated blood component separators
The CompoMat G5 Plus standardizes blood component separation by combining the innovations of the CompoFiow closure device and wide-bore tubing for faster top and bottom separation.
The CompoMat G5 Plus combines innovations into one system for a faster top and bottom separation time than with standard tubing.
CompoFlow® cap principle
The traditional bag breaker is replaced by a patented cap, automatically squeezed by the CompoMat G5 Plus opener.
Advantages of the CompoFlow bag system
Standardized positioning, squeezing, and opening of the CompoFlow cap; fully automated
Special form coding prevents application errors
Reduced risk of hemolysis due to incorrect processing is especially attributed by standardization of the breakaway opening process
More operator comfort
Wide bore tubing
Average separation time with Top and Bottom system typically 2 minutes
Large diameter reduces processing time up to 26%
Low hemolysis rate