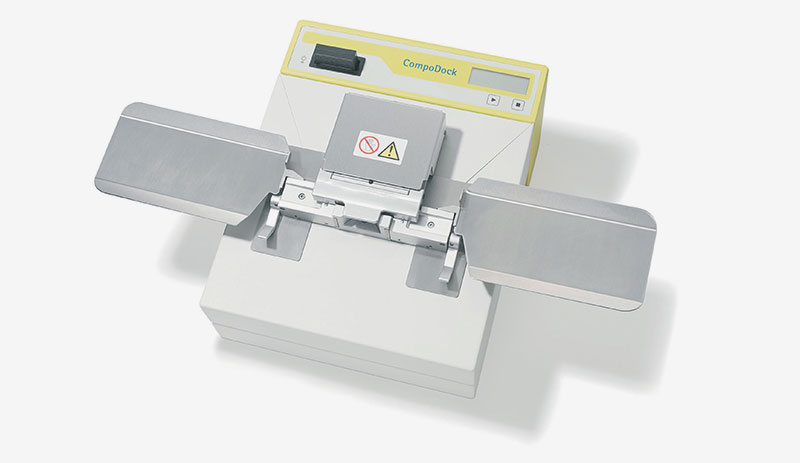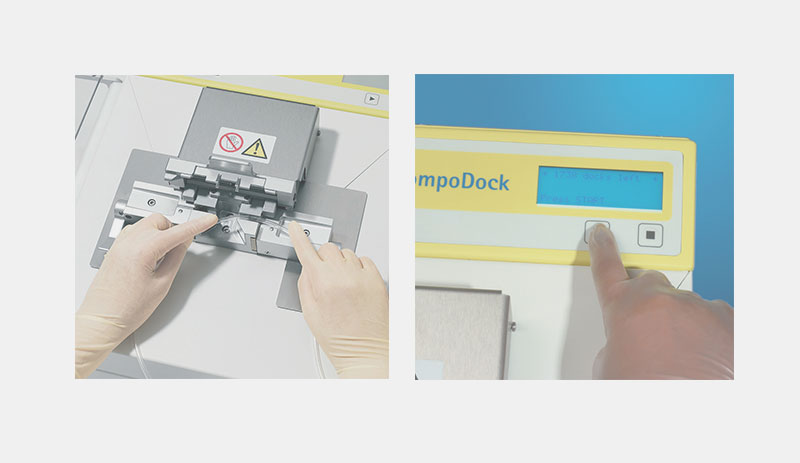 Product Specification
Tube specification:
OD = 3.9 – 4.6 mm, ID = 2.8 – 3.1 mm
Power supply:
230/240V AC, 50/60 Hz
Dimensions:
340 × 220 × 450 mm (L × W × H)
Weight:
22.8 kg
The patented technology for sterile connection of PVC tubing – new and improved
CompoDock® is a unique machine that does not require wafers as it has a permantent heating element. This leads to a number of benefits on environmental/health and saftey aspects in operation
Quick and easy handling
Operation is quick, as no wafer loading is neces-sary. Wafer loss caused by jamming cannot occur. The loading of the system takes place in just two steps and is designed to prevent any problems with tube mix up. Finally, no contami-nated wafers have to be disposed.
New tube alignment
The new position cover prevents fail docks due to misalignment. Tube guards (see picture, marked area) position the tubes automatically in the right posi tion, whenever the cover is closed. This con-struction of the new tube alignment supports fail safe handling, which is especially attractive for intensive use.
Fully closed system – reduced odour and exhaust
The element heats the sealed tube ends without touching them. The tube ends of the docked tube remain sealed until the dock is completed and the waste tube ends remain closed for disposal (no risk of contamination). Smell and exhaust caused by burned PVC material is significantly reduced compared to systems using wafers. This is highly appreciated by operators with systems already in use.
Reduced tube length
By introducing the new moving bag support trays the disposables are transported together with the clamps during the docking process. The ben-efit is that the minimum required tube length is reduced to 10 cm.