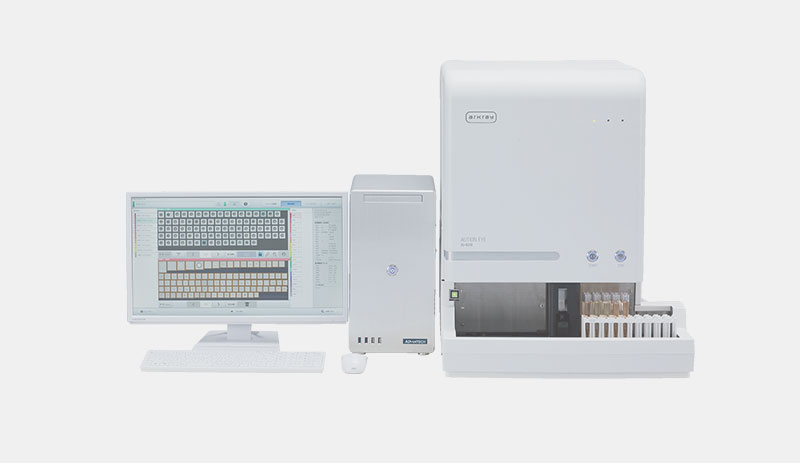 Product Specification
Measurement Objects
Urine
Measurement Items
12 automated classification items:

Red blood cells (RBC),White blood cells (WBC),
White blood cell clumps (WBCC),
Squamous epithelial cells (SQEC),
Non-squamous epithelial cells (NSE),
Hyaline casts (HYAL),Unclassified casts (NHC),
Bacteria (BACT), Crystals (CRYS),
Yeast (YST), Mucous (MUGS)
and Sperm (SPRM)
Required sample volume
Minimum 2 mL
Measurement principle
Flow cell digital imaging
Dimensions
530 (W) x 600 (D) x 650 (H) mm
(including the sampler)
Weight
Main body: Approximately 53Kg
Sampler: Approximately 4Kg
Your reliable partner in urine sediment analysis
Saves your time by automating urine sediment analysis
Particles captured by AUTION EYE are classified automatically based on a unique algorithm. Users can also review and classify the images captured by AUTION EYE as necessary. By automating formed element analysis with these functions, users will be able to concentrate on those urine sediment samples that truly require microscopic examination.
Various functions readily available on the operation screen enabling intuitive operations
The screen for reviewing measurement results has an easy-to-see configuration and is designed to enable intuitive operations. Moreover, there are multiple support functions for the identification ofparticles captured by AUTION EYE.
For easier identification of particle images
AUTION EYE captures images with color and this function enables the user to check the difference of colors for each urine formed element. Also, there is a summary screen that shows multiple particles within a single screen, enabling the user to grasp the occurrence frequency of specific particles intuitively.
Useful Library (Atlas images*) as a standard function
Our Atlas image collection with standard particle images is installed. It can be displayed on the same screen. Moreover, the user s original images can be added for standardization of particle analysis and used as an educational tool within the facility.
Urine qualitative test results can be displayed together
The urine qualitative test results can be displayed on the operational screen together with the test results of AUTION EYE. This function enables the results of AUTION EYE to be cross-checked by referring to the urine qualitative test results.
Compact footprint realized by simple transfer system
Direct connection with a urine qualitative analyzer is possible. This makes it the transfer system with the smallest footprint in our profile.